Trippa (tripe) and Lampredotto are two dishes that perfectly represent the Florence popular culinary traditions, eating them is an experience you can't miss.
Born from the street foods of artisans and workmen, tripe and lampredotto have been an important part of the Florentine tradition for almost one thousand years. Florence and Tuscany are famous for the meat, that is an important part of traditional cousine, and innards are very common, as in the past every piece of the animal was precious, even stomach, liver and stuff like that.

lampredotto sandwich


For those who might not have ever thought that these innards of the animal could even be eaten, the two most popular dishes are explained.

La trippa
(tripe), is the part of the digestive organ found between the esophagus and the stomach of the cows. It can be prepared in many different ways, even if in Florence city it is mainly found cooked with tomato sauce (trippa alla fiorentina, you can find the recipe I usually use in this post), but I use to cook it also with mushrooms, with or without tomato sauce, or with tomato sauce and parmigiano reggiano cheese.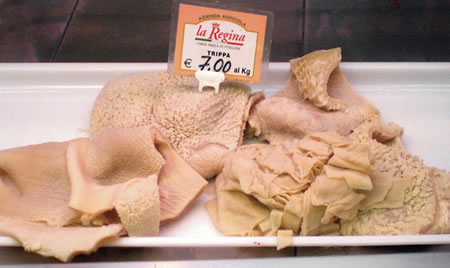 Tripe (Trippa)


Lampredotto
(offal) also comes from the stomach of a bovine, but is more tender, thin and flat, and it's not white, but light brown.
Lampredotto
The meat is boiled in a broth of herbs and vegetables, then finely sliced and as served inside a sandwich. Salt and pepper, green sauce and hot sauce are the traditional toppings, and a glass of red wine is the perfect drink to match with lampredotto. You can also ask for "lampredotto bagnato": a piece of the bread is soaked in the broth.
Lampredotto is sold in some typical lampredotto-stands, small wheeled-kiosks placed in the streets, where you can stop, take your sandwich and wine (in a plastic cup) and step away, we call this kind of stand "lampredottaio" or "trippaio".


one of the lampredotto kiosks

The

best lampredottaio in Florence

are:


- Piazza de' Cerchi (near Piazza della Signoria)
- Via Gioberti (near Piazza Beccaria)
- Piazza del Mercato Nuovo (Mercato del Porcellino)
- San Lorenzo Market (the stand is called "Nerbone")
- Via del Verrocchio (behind Sant'Ambrogio market)
An anonymous reader of this blog suggests also those ones:
- piazza Tanucci (I agree!)
- via Benedetto Dei

A second anonymous reader suggested other good lampredotto kiosks:
- viale Giannotti (in front of the Coop supermarket)
- piazza delle Cure
Thanks to both those readers for the precious suggestions!