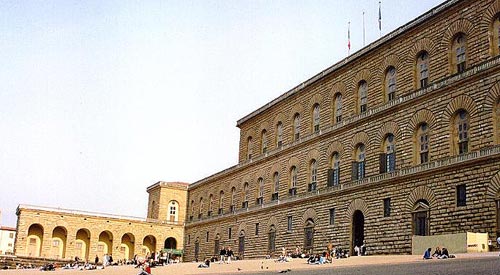 The gallery is second only to the Uffizi in importance, and is notable for the works of Rubens, Pietro da Cortona, Tiziano e Raffaello (Titian and Raphael).
Begun in 1458 from an original design by Brunelleschi,
the architecture of Palazzo Pitti
was inspired by ancient Roman buildings. An enormous affair, it was built for Luca Pitti, a one time friend of the Medici who became jealous of their power and turned against them. The palace was a blatant attempt at one-upmanship, but the fortunes of the Pitti family soon faded, and the powerful Medici family acquired the building, still uncompleted, in 1540.
It was to become the family seat in Florence and it was Cosimo´s wife, Eleanor of Toledo (whose dowry paid for the purchase), who was to transform the hillside behind the palace into the Boboli garden.
Palazzo Pitti remained the principal Medici residence until the last male Medici heir died in 1737: the Medici dynasty became extinct and the palace passed to the new Grand Dukes of Tuscany, the Austrian House of Lorraine.
The palace is home to eight separate museums: Galleria Palatina (Palatine Gallery, probably the most important one), begun by Cosimo de' Medici the second in 1620; Gallery of Modern Art; Costume Gallery; Museo degli argenti (Silver Museum); Porcelain Museum; Boboli Garden.
Opening hours:
Open Tuesday to Sunday 8,15 – 18,50
Closed Monday, New Year's Day, May 1st and Christmas Day.

Tickets:
Full Price: € 6,50Reduced: € 3,25
Free admission for people under 18 or over 65, students and teachers of faculties of architecture, cultural heritage conservation, educational sciences, or of Fine Arts Academy, tour guides.