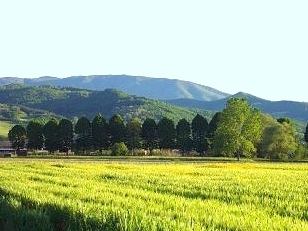 Last week I decided to spend a Sunday in
Mugello
, a wonderful corner of tuscan countryside, rich in nature, art and history, just a few kilometres away from Florence.
Mugello was dominated by Etruscan first, then by Romans. In the middle ages was territory of the
Guidi
and
Ubaldini
families, whose fought Florence. Then from 1300 the Mugello became an important area for Florence, because of its strategic and economic importance.
Several important buildings and fortresses, castles, villas, monasteries and palaces still bear witness to this important period of growth in Mugello. In fact, even the artistic and cultural history of Florence owes much of its development to Mugello: artists such as
Giotto
and
Beato Angelico
were born here; important architects worked on the construction of the castles and moreover, the
Mugello landscape
has provided inspiration for numerous Florentine paintings.
I decided to follow the
"Medici Route",
discovering the places where the Medici family lived nad ruled.
The tour starts in
Scarperia
, which was founded by the town of Florence at the beginning of the 14th century, and still conserves the impressive
Palazzo dei Vicari
, which was built in the same period but has undergone numerous transformations and restorations throughout the centuries. Palazzo Vicari houses the
Museo dei Ferri Taglienti
- antique and modern cutlery – as Scarperia is well known for knife handcrafts.
From Scarperia move to the small town of
Sant'Agata
, where there is a beautiful Romanesque church, the most famous sacred structure in Mugello.
Then visit the
Bosco ai Frati Convent
, which was built according to
Michelozzo
's design, by order of
Cosimo dé Medici
. Inside, you find the splendid
Crucifix by Donatello
( opened only on Saturday and Sunday morning because friars still live here).
Heading towards San Piero a Sieve, you find
Villa Medicea of Cafaggiolo
, one of the favourite residences of
Lorenzo the Magnificent
, and a splendid example of Renaissance architecture (visits must be booked). Not far away, towering above you, surrounded by century old cypress trees, you can admire the
Trebbio Castle
: another magnificent Medici construction (private, visits only in special days).
In the next post I'll let you know all those wonderful places!
Here's a small useful map of Mugello!