What about spending some time hanging around the stalls of a market to breathe the genuine atmosphere of a city?
In Florence there are a lot of markets where you can buy almost everything; here is a list of the main markets, the ones that are strongly recommended if you're planning to visit the city.
Florence is famous for leather products, and sure for meat, cheese and food in general; you can find all those things at the market at very reasonable prices.
Market of San Lorenzo
In front of the church of san Lorenzo, in piazza San Lorenzo and via dell'Ariento, this is the main market of the city. Outside you can find clothing, leather shoes, belts, bags, souvenirs, and more. Inside de building there are the food stalls, selling meat, vegetables, fruit, cheeses… Always very crowded.
Opened from Tuesday to Saturday, externally all day long, inside from 7 to 14.
Market of Sant'Ambrogio
In piazza Sant'Ambrogio, this is the right place if you're looking for the best food at the best price in Florence! Less crowded than San Lorenzo, here you find less tourists and more locals; in this market there is also the restaurant
Rocco
, where you can stop for a tasty traditional Tuscany lunch. Outside the market some stalls sells clothing, house ware, books, dvds, and more.
Opened every day except Sunday, from 7 to 14.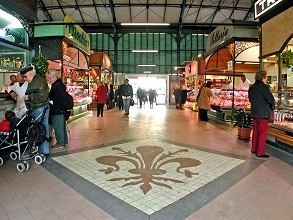 Le Cascine Market

In the biggest park of the city, Le Cascine, on the Arno riverside, every Tuesday morning a very big market takes place: food, clothing, house and kitchen ware, collectibles, vintage stuff, you can find almost everything here! Don't forget to take a walk in the park after shopping ;-)
Flea Market- Piazza dei Ciompi

In Piazza dei Ciompi, opened every day except Sunday, from 9 to 19, there's the flea market of Florence. The stalls sell furniture, books, comics, records, prints, paintings collectibles, jewels, old coins and much more. This market is really charming, with its retro atmosphere!