Rocco
is one of my favorite restaurants, when I want to eat in a very quick and cheap way.It's not a not a poor sandwich to eat standing, at Rocco you can have a complete meal with all the simple and tasy
dishes of Florence tradition
, drink a glass of red wine, and have a talk with Rocco, the owner and also chef of this restaurant. Rocco is located inside the market of Sant' Ambrogio, in piazza Sant'Ambrogio; is only opened at lunch and closes around 14-14,30 because has to respect market's closing time.
Market of Sant' Ambrogio
is perhaps my favorite one of Florence, less crowded than San Lorenzo market, and with foods of greater quality (I'm talking about meat, fruits and vegetables), i recommend you a visit to taste some great Tuscany food.
Rocco is not link a common restaurant, with small tables, separated kitchen, etc. we say that it is more a widened kiosk, seems a train wagon, with small tables at sides, and a free central space where the waiters pass away. The kitchen is at the bottom of the " wagon" , and it is at sight. In the central space there's also a big container with food trays, so you can see what you're going to order.

Atmosphere is pretty informal: vintage prints representing old Florence, memories of a whole century... on the table a yellow paper, napkins and glasses are made of paper too. Rocco is a perfect host, he laughs, play tricks, sings traditional songs... The service is really quick, in a few minutes your meal is served, infact I would say that it' s more a fast-food-trattoria then a restaurant.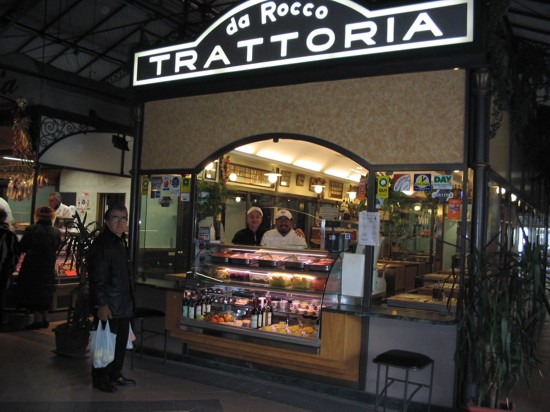 I really like Rocco's dishes: all the simplest
traditional recipes typical of Florence
, like steaks, chickpea soup, ribollita, beans soup, boiled tripe, and much more, always served with his own red wine.
All the dishes cost less than 4 euro, so the price for a complete meal, with 3 main dishes and beverages is about 15 euro... really inexpensive, but also really tasty... You won't go away with empty stomach or empty pockets!
I just love this place, everyone eats here, from tourists to italian businessmen, once here I even met some celebrities like football players of Fiorentina, the Florence football team.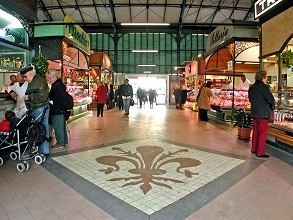 Inside the market of Sant'Ambrogio